Epic Life Collection (English)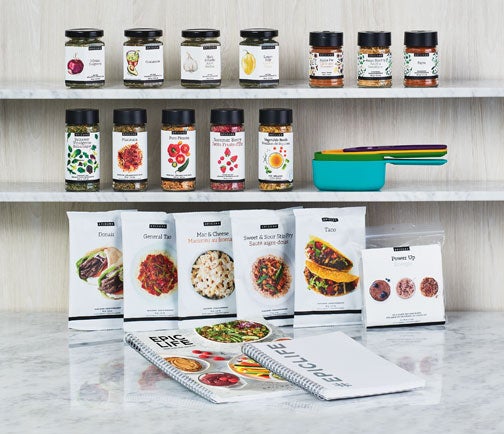 A better way to celebrate your health and wellness! Experience a freshened-up Epic Life Program with the NEW collection. 
What's new? The Epic Life Guide comes with a refreshed four-week meal plan & grocery lists to feed a family of four, 30+ new recipes, plant-based recipe swaps & tips, refreshed substitution & portion chart, new & updated build-your-own charts. Perfect Portion Scoops have had a glow up! They are now colour-coded and come with measurements for tracking made even easier. Finally, don't leave home without your  Epic Life Journal! It stands as your friendly reminder to plan meals, set goals, track your progress and celebrate your wins.
Collection Includes: Epic Life Guide (four weeks of meal plans and 100+ customizable recipes), Perfect Portion Scoops, Epic Life Journal, and 18 bestselling blends. 
Included Bestselling Blends: 3 Onion Dip Mix (1), Guacamole Dip Mix (1), Herb & Garlic Dip Mix (1), Lemon Dilly Dip Mix (1), Apple Pie Spice (1), Asian Stir-Fry Seasoning (1), Fajita Seasoning (1), Balsamic Vinaigrette Dressing Mix (1), Marinara Sauce Mix (1), Poco Picante Salsa Mix (1), Summer Berry Sweet Dip Mix (1), Vegetable Broth Mix (1), Donair Seasoning (1), General Tao Seasoning (1), Mac & Cheese Seasoning (1), Sweet & Sour Stir-Fry Seasoning (1), Taco Seasoning (1), Power Up Chocolate Protein Blend Samplers (3).  
Stock your pantry and commit to a sustainable lifestyle. Are you ready? Now Go For it!